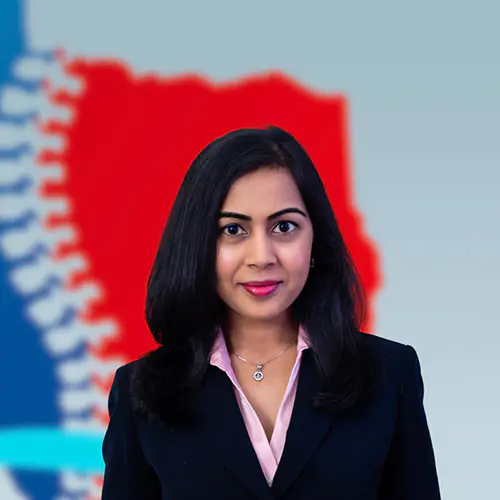 Pain Management Physician in Houston
Dr. Purvi Patel is a highly skilled and compassionate pain management specialist who founded Gulf Coast Pain and Spine in 2015. She has dedicated her career to helping patients find relief from their pain by offering the most advanced and effective treatments available.
Dr. Patel's journey in medicine began with her graduation from Rutgers University, where she earned a Bachelor of Arts degree with honors in Biological Sciences and Art History. She was then accepted to the prestigious BA-MD program at the UMDNJ-Robert Wood Johnson Medical School, where she obtained her Doctor of Medicine degree.  She completed her residency in Anesthesiology and a fellowship in Interventional Pain Medicine at UMDNJ-Robert Wood Johnson Medical School.
Throughout her medical training, Dr. Patel received numerous awards for her outstanding performance and dedication to patient care, including the Gold Humanism Honor Society, Robert Dripps Memorial Award for Most Outstanding Graduating Resident, and the Arnold P. Gold Foundation for Humanism in Medicine Resident Appreciation Award.
Dr. Patel believes in a patient care philosophy that emphasizes kindness and compassion. She takes the time to listen to each patient's concerns, understand their unique needs, and develop a personalized treatment plan. By combining her extensive medical knowledge with a gentle bedside manner, Dr. Patel ensures that her patients feel supported and understood throughout their pain management journey.
As a member of several prestigious professional organizations, such as the American Society of Interventional Pain Physicians, Spine Intervention Society, and the Texas Pain Society, Dr. Patel stays up-to-date with the latest advancements in pain management techniques. She is fluent in Gujarati and Hindi and proficient in Spanish, allowing her to effectively communicate with patients from diverse backgrounds.
In summary, Dr. Purvi Patel is a dedicated and compassionate pain management specialist who is committed to providing the highest quality care to her patients as the founder of Gulf Coast Pain and Spine. With her focus on kindness and understanding, patients can feel confident that they are in the best hands for their pain management needs.