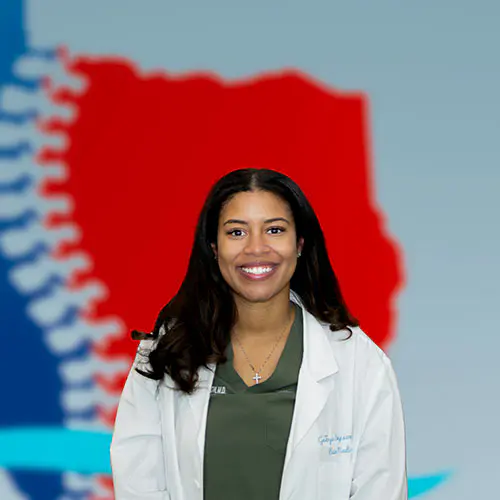 Pain Management Physician in Houston
Dr. GaToya Simpson is a highly skilled and compassionate pain management physician at Gulf Coast Pain and Spine. Her dedication to improving the lives of patients suffering from chronic pain and her expertise in advanced pain medicine techniques make her an essential member of the team.
Dr. Simpson began her academic journey at Spelman College, where she earned her Bachelor of Science degree in Biology. She then attended Southern Illinois University School of Medicine, obtaining her Medical Doctorate degree. Dr. Simpson completed her Anesthesiology Residency and Pain Medicine Fellowship at the prestigious University of Texas Medical Branch in Galveston.
As a testament to her commitment to providing the highest level of care, Dr. Simpson has pursued additional training in various pain management techniques. She has completed numerous cadaver courses that focused on spinal cord stimulation, peripheral nerve stimulation, dorsal root ganglion stimulation, kyphoplasty, and intrathecal pain pump placement. These advanced skills enable her to offer a comprehensive range of treatment options to her patients.
Dr. Simpson is highly proficient in a variety of pain medicine procedures, including spinal cord stimulator placement, peripheral nerve stimulator placement, kyphoplasty, and minimally invasive lumbar decompression. Her dedication to mastering these techniques ensures that her patients receive the most effective and up-to-date treatments available.
In addition to her clinical expertise, Dr. Simpson is passionate about sharing her knowledge with the medical community. She has delivered numerous lectures on topics such as spinal cord stimulation, opioid prescribing guidelines, and central pain syndromes. Furthermore, her research has been presented at conferences and published in scientific journals, demonstrating her dedication to advancing the field of pain management.
Dr. Gatoya Simpson's membership in professional organizations such as the American Society of Anesthesiologists, Texas Society of Anesthesiologists, and the International Anesthesia Research Society reflects her commitment to staying current with the latest developments in her field.
At Gulf Coast Pain and Spine, Dr. Simpson brings her extensive knowledge, advanced skills, and empathetic approach to provide the highest level of care to patients suffering from chronic pain. Her unwavering dedication to improving patients' lives and her expertise in advanced pain medicine techniques make her a highly sought-after pain management physician.